The Guardian, a media organization based in the UK, has a wonderful online program called the Global Professionals Network, "a space for NGOs, aid workers and development professionals to share knowledge and expertise". They also have an occasional feature called "The Secret Aidworker," a column written by anonymous aid workers, talking about the not-so-great parts of humanitarian work.
The most recent blog is an aid worker talking about the "dark side" of humanitarian / development communications. Like me, she trained as a journalist, and it affects both her approach and her ethics regarding public relations and marketing. I was so struck by these two paragraphs from her blog:
The international community is too focused on using gimmicks in outreach campaigns rather than considering who their audience is and what they want. I was recently asked to design an outreach campaign to educate the local community we work in about the work we do. So keeping in mind the low literacy rate of our audience and the limited access they have to online and print media, I designed a communications campaign accordingly. However, that was considered old and outdated.
For my organisation, the use of new technology such as apps and social media held priority over the local regional media, even though I explained much of these were inaccessible to the people we were trying to reach. Too often people think that if a country has access to the internet and mobile phones, every one has access. They don't consider the cost of mobile data, the literacy rate, or if the locals would even use their devices the same way as in the US and Europe.
Oh, I SO hear this! Not just in humanitarian work, but in all communications work for nonprofits, governments and other mission-based organizations, anywhere. I hear from nonprofits wanting to explore using SnapChat that haven't updated their web site in months.They want to host a hackathon to develop an app while their manager of volunteers is refused money for posters for a volunteer recruitment campaign. They want to know the best engagement analytics software to purchase while their online community is quiet for weeks, with no staff posting questions, no volunteers sharing information, etc. They want a crowdsourced fundraising campaign but haven't sent thank you's to donors this year. They want a viral online marketing campaign to promote something but balk at the idea of a staff person visiting area communities of faith and civic clubs to build personal relationships with local people, especially groups that represent minorities that are under-represented within the organization's volunteer, client and donor base.
Anyone who knows me knows that I have long been a promoter and advocate of ICT4D. I wrote one of the first papers – back in 2001 – about handheld devices, what were then called PDAs (personal digital assistants), in health and human services, citizens' reporting, advocacy, etc. I am a pioneer regarding virtual volunteering. I use, and advise on the use of, social media to promote a variety of information and network with others. I regularly post to TechSoup's Public Computing, ICT4D, and Tech4Good community forum branch about apps4good – smart phone applications meant to educate people about maternal health, help women leave abusive relationships, connect people with emergency housing and more. So I certainly cannot be accused of being a Luddite. But with all that said, I also still see the value of, and know how to leverage, printed flyers, printed posters, paper newsletters, lawn signs, newspaper ads, radio ads, radio interviews, TV interviews, TV ads, onsite speaking engagements, display tables, display booths and other "old fashioned" ways of communicating.
This aid workers blog reminds me of the early days of the World Wide Web, when I would hear an executive director of a nonprofit or the director of a government program talk about how great the agency's new web site was, but as they talked, I realized they'd never looked at it themselves, and weren't really fully aware of what the Internet was.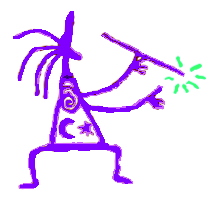 Too many senior staff are bedazzled by buzzwords and jargon they've heard from consultants, giving their employees orders to do something based only on what they think is "hip" now. I am just as frustrated by organizations that overly-focus on the latest social media fads for communications as I am by organizations that ignore all things Internet and smart phone-related.
What should you do if you face this in the work place? Use small words and lots of data with your senior staff, and stay tenacious. Remember that a list of potential expenses and budgets for time can make a case for you to do a comprehensive, realistic communications plan. And be explicit and detailed on how your communications efforts will be evaluated for effectiveness.
My other blogs that relate to this: