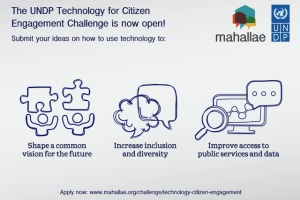 A key focus of the the United Nations Development Programme (UNDP) Strategic plan 2014-17 is inclusive and effective democratic governance. "We are committed to supporting citizen participation and engagement in policymaking and governance, to foster more peaceful and inclusive societies." That's why UNDP is launching the "Technology for Citizen Engagement Challenge".
"UNDP invites you to come up with technology-enabled solutions that can help to better engage citizens in addressing some of the challenges faced in our daily lives. UNDP offers both funding of up to $10,000 and mentoring support to help turn the best ideas into reality." Winning teams will also be invited to attend the 2nd Annual Build Peace through technology conference in Nicosia, Cyprus on 25th & 26th April 2015.
Examples of the use of networked technologies and tech innovations to help narrow the gap between citizens and decision makers that UNDP has supported:
In Georgia,  ELVA uses mobile phones to facilitate rapid responses to incidences has led to a restoration of community safety and security in often volatile circumstances.
In Cyprus, Hands on Famagusta brings together Greek and Turkish Cypriot architects who use new technology to create a future vision for the divided city of Famagusta.
In conflict-torn East Ukraine, UNDP is using a mobile app to crowdsource reports of structural damage, which will in turn, help UNDP help the government plan how to best rebuild.
So what are we looking for?
Do you have an idea for a technology enabled solution that can help to better engage citizens in addressing the following issues?
Common Vision for the Future – How can we use technology to bring together different groups to imagine a common vision for the future? Submit your ideas for how to embrace differing views to find common ground by sharing a vision for the future.
Inclusion through Diversity – How can technology help to diversify the voices that inform policy by embracing more inclusive decision-making processes? Submit your ideas for how to increase dialogue between citizens and decision makers so that a multitude of voices are represented in public policy, including those of women and youth.
Improve access to public services and data – How can we utilize technology to improve access to public services and/or data? Submit your ideas for how better access to services and data can strengthen trust in institutions and encourage greater public participation in decision-making.
Deadline for the submission of ideas is Thursday 5th March – Apply here
FOLLOW: @UNDPEurasia, @UNDPArabStates  and @mahallae on Twitter for updates.