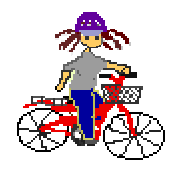 If I want to come to come to your nonprofit organization, your NGO, your government office, etc. for a training or a workshop or a special event or for your services, and I will not be driving, will your web site tell me how to get there?
Will your web site tell me what buses stop nearest to your organization and how far the walk from a bus stop is to your office? Will it tell me where to park my bicycle? Is there a photo of the exterior of your agency, so I'll recognize it easily?
I'm in a one-car family. I use mass transit and my bicycle to get around. In the greater metropolitan Portland, Oregon area, that's not an easy thing (it's fascinating to hear Portlandiers brag about their mass transit system, but start to stutter when I ask, "Do you yourself take it every day, or even every week? Do you rely on it to get to and from work?"). Looking at various nonprofit web sites when I'm supposed to have a meeting, I often can't find the street address, and even then, there's no information about mass transit options or bike parking. Yes, I've used the Portland mass transit trip planner, but it often doesn't suggest the quickest route, or tell you that while there is a bus stop a block away, there's a light rail stop just five blocks away. When you are actually on a Portland bus, routes usually are not announced, bus drivers aren't happy about trying to help you find the right stop, and there are lots of challenges that would have been much more navigable has someone simply warned you about such.
There are people who cannot afford to buy a car, people who don't have a driver's license, and young people, too young to drive, who want to volunteer at your organization, attend an event, or access your services. If you don't have information to help these people – and that includes me — you are telling these audiences, We don't want you to come to our organization. Is that really what you want to say?
And, indeed, there are events, trainings and more I have wanted to attend, but cannot, because I either can't figure out how to get to the organization by mass transit or the organization is having the meeting in a place not easily reached by mass transit. One organization had a meeting at a library branch that would have taken more than two hours for me to get to – but had they had the meeting just 3.5 miles away, at another library branch, it would take just 40 minutes – the difference was that one site is served by a bus that comes only every 30 minutes, while the other is on an express, frequent service bus line.
Your organization's web site needs to have the following information – and it needs to be oh-so-easy to find:
a text-based rendering of your organization's physical address (not just in a graphic)
a map that shows your organization's location AND the nearest bus stops (including express/frequent service buses) and nearest light rail stops; there are online volunteers who would be happy to prepare this graphic for you
written advice that would be helpful to a bus rider (is there a landmark you should be looking for when riding the bus to know when your stop is coming? how long of a walk is it from the stop to your office? is there only one place to cross a particularly busy street that wouldn't be obvious to someone unfamiliar with the area (as I recently encountered for an evening training, in the dark, at a nonprofit's office)? Ask your current volunteers and clients about this – or create an investigative project for your volunteers to tease out this information
a photo of the exterior of your offices
information on where a bicycle rider would park. If you don't have a rack outside, either get one or allow people to bring their bikes inside (an addition note about this is at the end of this blog)
tips specifically for bicyclists, like advice on routes (perhaps a bike rider would be more comfortable riding on a parallel street rather than a main one – another great investigative project for your volunteers)
There is no excuse to not have this information on your web site, unless your organization needs to keep its location private (a domestic violence shelter, for instance).   Not We don't have the time or We don't have the funding or All of our clients/volunteers drive. This information is just as important as parking information and your hours of operation!
Volunteers can help you gather this information. If none of your current volunteers are interested, post it as an opportunity on VolunteerMatch (or your country's equivalent) and with your local volunteer center.
In addition, remember that in most cities, buses stop running after a certain hour. If your training goes past that time, you are excluding people who would be stranded after the training. If there is no way to change the hours, talk about ways to set up participant car pools.
Encourage volunteers to carpool as well. And brag about all these green living efforts to the board and on your blog!
On the subject of bike parking racks: Cyclists prefer to park very close to their destinations and will lock a bicycle to anything available unless a rack is nearby. They do NOT want racks that hold the bike by the wheel, nor racks with which they can't use a U-Lock. Racks should be in public view with high visibility and good lighting. One that is filmed by a security camera is particularly great. Work with your city to get a rack installed for your building; they will have rules regarding where racks can go. Bike racks are great projects to fundraise around: identify exactly how much it will cost to buy and install such and involve your volunteers on creating a fundraising campaign to raise the funds needed for installation (what a great sponsorship opportunity!); when you install your new bike rack, take photos, make an announcement – maybe even throw a party! In short – make it a big deal.