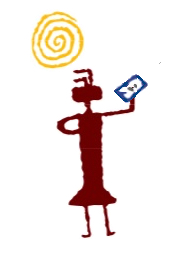 In the world in which we all live, most people have to be online, regularly:
There is essential government and business information that can be accessed only online, or can be accessed most cheaply and easily online.
There is breaking news that can affect a person's life or livelihood and, therefore, needs to be learned as close to real-time as possible – and that could happen only online.
There is information related to our work that is most quickly, easily accessed online.
And "online" includes using social media, such as Facebook and Twitter.
However, in many religiously-conservative communities around the world, women take a huge risk by being online, specifically in using social media. I explore this in a blog I wrote called virtue & reputation in the developing world. Because of threats to their reputation and safety, many women in religiously-conservative countries such as Afghanistan and Pakistan have given up on having a virtual identity at all – I personally know two such women, both professionals. This greatly hinders their ability to connect with potential colleagues abroad that could help them in their work, to build up a professional reputation beyond the walls of their office or beyond the staff of the organization, and to access information essential for their work and life.
There are some ways for women to develop an online profile on social media, including Facebook, that allows them to access essential information, to post information and to network with professionals in their field of expertise, but still protect identities online. Here are some guidelines:
Choose a first and last name you will use online only
These should be names that are different from your real names. However, also try to create a name that isn't a real name for someone else. You can also use just an initial for your first name – one letter.
Create an email address for your anonymous profile
Gmail is a good choice. Use something that in no way involves your real name. Associate this with social media accounts, rather than your work or university email address.
Be vague online about your employer or university
On any social media site, such as Facebook, do not say the full, real name of your employer or the university where you currently attend. Identify yourself more vaguely, such as:
employee of an Afghan government ministry
assistant at a Egyptian dental office
nurse at a hospital in Kuwait
student at a university in Kabul
Be careful who you friend on Facebook.
Talk to people face-to-face that you trust and that know your real name if you want to friend them on Facebook, if you can, and tell them why it is so important that they keep your identity a secret if you link on social media. If you have an argument with that person, will he or she reveal your true identity online? You must friend only people who you can trust who know your real name, and those people need to understand that they must NOT tell others who you are online or make comments that would reveal who you are. When in doubt, don't friend local people at all and just focus on international colleagues who fully understand your situation or do not know you offline at all.
Do not share photos of yourself where your face can be seen
You can share photos of yourself on social media where your identity cannot be determined. For instance, if you were standing with your back to the camera, and not wearing distinctive clothing. Or a photo of just your hands.
Do not share photos of family or friends
This could make it easier for people to figure out who you are.
Have a physical address that isn't your home or workplace
Sometimes, to register on a particular web site, you must provide a physical address of either your home or work place. Pick a public place as the address you will use: a public library or a book store are good choices. Those places may end up getting paper mail addressed to your fake identity, and that's okay: there is no way for this to be traced back to you and it won't be mail you want. Never use your actual home, work place or university address for your anonymous profile.
Post status updates that do not indicate your identity
You can share memes and news stories (always verify them first and ensure they are true), write status updates about the weather, write your opinion of current affairs, or offer advice related to your country or your profession. But don't write specifics, such as "I just attended a great class on the state of water and sanitation in Luxor", as that's too specific and could be used by someone who reads it to figure out who you are.
Be careful when commenting on the Facebook status updates of friends
If one of your colleagues posts a status update, and you comment that "I look forward to talking to you about this at the staff meeting on Monday at 4", one of their other friends who is NOT your online friend may figure out who you are. Instead, you could say, "I look forward to talking to you about this soon."
Never use this anonymous account from work
The risk is too great of someone seeing your screen, or your walking away from your desktop and someone using the "back" button to scroll through the screens you have visited and find that you forgot to log out of Facebook – they will be able to see your anonymous profile as a result.
Be careful about posting in online discussion groups
There are online discussion groups regarding topics related to your work. By all means, join such a forum and read the posts. But be careful about posting, including replying to others. When you post, you reveal your IP address. This will NOT reveal your name, your home address, your age, etc. But your IP address may reveal where you work IF you are accessing the group from your workplace's Internet connection and if that connection is configured a certain way.
Practice denying your online activities
People are going to ask you if you are on Facebook or Twitter. Practice saying no. Also practice your response to someone who says, "Is so-and-so on Facebook really you?"
If someone you do not know starts messaging your fake account, be careful about engaging with them. If they are asking "Who are you?" or "Why did you say that?", ignore them. If they are asking how you know a shared friend, ignore them. If they become insulting, block them. If they say they are a reporter and they saw your post somewhere and would like to interview you, ask them what newspaper or TV station they work for, ask for their full name, and then look up that organization online and call them and ask if that person works there. In other words, make absolutely sure it's a REAL journalist that is asking you questions!
If anyone threatens you online, screen capture those messages and save them. If anyone threatens you online with physical harm in any way and you believe that person could figure out who you are, it may be best for you to block them and delete your account. Your safety is always paramount and you should do what you need to do to stay safe.
Why am I not recommending that a person contact the company that operates the platform or social media site to report harassment, or to contact local police department? That is certainly an option if you live in a country that has rule of law. However, if you live in a developing country or a country that has laws that censor Internet access, such reporting could actually put you in danger. Even so, hold on to your screen captures of threatening messages and share them with a person you trust if you feel they represent a real threat to you or your family.
Also see: