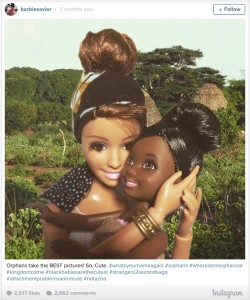 If you are going abroad, particularly to developing countries, even just for vacation rather than a humanitarian mission, be really careful and respectful in what you write for the public about your travels, including your use of social media – blogs, Twitter, Facebook, Instagram, etc. -, and what photos you take and post. Think about a post or photo carefully before you publish: is it accurate? Is it enlightening? Could it be seen as patronizing? What would the people I'm talking about say if they read what I said/saw my photos? Would it be acceptable for a stranger to talk about your community, and share photos of your children, on their blog in the way you are about to?
Earlier this month, National Public Radio did a story about how Zambians, other Africans and aid workers are using social media to show factual errors and condescending remarks in a memoir by British actress Louise Linton about her gap year. The hashtag being used is #LintonLies.
An excerpt from Linton's book:
I still sometimes feel out of place. Whenever that happens, though, I try to remember a smiling gap-toothed child with HIV whose greatest joy was to sit on my lap and drink from a bottle of Coca-Cola.
Really? THAT moment was that child's GREATEST JOY?! And that is the kind of circumstance that makes you feel not out of place? She also talks in her memoir about child soldiers in Zambia – something that is not actually an issue in Zambia. Throughout her book, she confuses Zambia with Congo and Rwanda. The Zambian embassy in London has even called her out.
And then there's actress Debra Messing, who seems similarly confused about Africa being a country, and posted photos online recently that gave people the impression that her message was more about "look where I am!" than the people she was supposed to be there FOR on behalf of two NGOs, as dissected by a commentator at Jezebel.
It all looks like 'White Savior Barbie' come to life – White Savior Barbie is an Instagram account that hilariously parodies volunteer selfies in developing countries, as highlighted in this article on the Huffington Post. There's also an article in the satirical magazine The Onion that mocks voluntourism , joking that a 6-day visit to a rural African village can "completely change a woman's facebook profile picture."
I actually have a little bit of sympathy for Messing. I know that they had good intentions. And we've all done things out of ignorance that we later, often quickly, regret. We all make cultural missteps. We all make communications missteps. And aid workers can get quite carried away in an ongoing and very smug game of more-in-tune-with-people-and-not-acting-privileged-than-thou when they mock volunteer humanitarians and others, and that can be just as bad as the missteps they mock. I've been called out a few times for things I've written my blogs from developing countries – sometimes I haven't agreed with those criticisms, sometimes I have. But I hope I've never come from a place of "look at me going to save all these poor people!"
I also hope these missteps don't stop people from sharing their adventures online, including photos:
UNICEF recognizes the enormous power of visual imagery such as this to engage, inform and inspire audiences – and to advocate for children's rights. Photographs or film footage that depict real life situations of children, and UNICEF programmes supporting supporting them, are one of the most effective ways to communicate these issues. — UNICEF Guidelines: Protecting children's rights in corporate partner image use, viewed online in July 2016. More UNICEF photo guidelines here
I learn so much reading various posts on social media from people working in developing countries. It's brave to put yourself and your thoughts and opinions out there, for public consumption. But be ready to revisit what you've said and thought online when it comes under public criticism.
And aid agencies, PLEASE train your workers, including volunteers and celebrity representatives, on how to use social media – and what not to do – before they start their work abroad or go on a field visit.
Check out this code of conduct resource from Child Rights International Network regarding taking photos of children in developing countries (really, anywhere).
Update October 21, 2016:  "a hot mess" of "neo-colonialism, racism, hypocrisy and privilege." A Christian ministry feels the backlash of a very ill-thought video of their impressions of Uganda. Another story about the video from NPR's Goats & Soda.
Update May 10, 2017: A photo of a young girl being raped, used by the magazine LensCulture to promote a for-profit competition by Magnum, a prestigious photo agency, violated UNICEF's ethical guidelines on reporting on children by showing the victim's face, which makes her identifiable, and lacked any explanation regarding the enslavement and abuse of the girl. The incident also brought attention to a broader issue in photojournalism: how the Western media depicts — and often demeans — young women and girls in poor countries. More about the incident here (the photo is NOT shown on this page).
Also see: