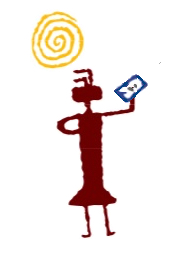 When I get to travel for work outside of my home near Portland, Oregon, I do a search on Google and Twitter to see what people and organizations might be worthwhile to connect with while in a particular area. I look for volunteer centers, international nonprofits, nonprofit development/support centers, nonprofits focused on computers and the Internet in some way, and academics that have done research or teach regarding nonprofit management or international aid work. I write each of those organizations, departments or people and ask if we could meet, just so I can hear about their work and so I can offer any advice or resources, in an informal setting.
Sometimes, my schedule fills up quickly, and I get to meet face-to-face with people I might never get to meet otherwise. Other times, I get confused email responses from people that find this old-fashioned "networking" idea as oh-so-strange.
Last week, I went to Philadelphia to present for the Mennonite Central Committee (MCC)'s  US National Thrift Shop Conference, about trends in volunteer engagement. I also contacted a few nonprofits, university offices and government offices to see if they would like to meet. The organizers of Philly Tech Week said yes (thank you, Brian James Kirk and Corinne Warnshuis!).
Philly Tech Week featured an event on the campus of Temple University while I was in the area:  Exploring Civic Volunteering With Technology: Kickoff for Commit Service Pledge. The event was to launch the Commitpledge.com web site that asks Philadelphia-area nonprofits to post tech-related volunteering opportunities, and for volunteers to offer their expertise through the web site to help with those opportunities.
The event also featured a panel discussion by Jeff Friedman, the new Director of eGovernment Business Development at Microsoft and recently a part of the Philadelphia Mayor's Office of New Urban Mechanics, Mayo Nissen, a New York-based designer who has been involved in urban improvement initiatives involving technology, and Anthony Pisapia, Associate Executive Director of Tech Impact, the nonprofit behind npCloud and VolunteerConnect.
The panelists talked not just about how tech helps nonprofits, but also how it helps governments better engage and support citizens – too many of tech-for-good initiatives leave out government programs, IMO, so this was great to hear.
Some good questions were asked, including:
How can big data help more in helping citizens?
How do we make products that result from hackathons sustainable?
How do we better address the disconnect between tech and who it should serve?
A moment I loved was when, in response to several panelist comments about how to find out what the community needs, an audience member said "Go to city council meetings!" She's so right – nonprofits and individual citizens are being loud and clear about their needs, in government meetings, in their own meetings, on newspaper Facebook pages, on government program Facebook pages, and on and on. Quit wondering and start reading and listening!
My favorite moment, however, was when Anthony Pisapia said "Nonprofits are geniuses at innovation, but maybe not at technology." I'll be quoting this again and again! He's absolutely right: nonprofits have expertise, and their staff and volunteers do amazing things with very little resources. In fact, they have as much, if not more, to teach the corporate, for-profit world as the other way around! Too many tech folks think nonprofits are incompetent or inefficient; in fact, nonprofits are some of the most innovative entities around.
There was also the inevitable questions of "What's the difference in a social entrepreneur and a volunteer? Actually, what is a volunteer? Is our goal that, eventually, everyone gets paid for their work?" As I was an observer and outsider, I didn't enter into that discussion during the event, but afterwards, did my best to answer the question one-on-one. That may turn into a blog…
If you will be in the Portland, Oregon area, and want to meet with me, contact me! Just tell me who you are, what your area of work is, and what you would like from me in terms of a face-to-face discussion.
I write a LOT about tech-related volunteering. Here are some of my resources: